WNA News and Documents
WNA announces new name, a Reorganization and the acquisition of Par-Pak Ltd.
Covington, KY, June 7, 2013 - WNA announces new name, a Reorganization and the acquisition of Par-Pak Ltd.
New Name and Corporate Re-Organization
WNA, the leading manufacturer and marketer of upscale foodservice tableware, today announced a corporate reorganization to accommodate the substantial growth WNA has achieved in recent years and its recent entry into new geographies and through the acquisition of ECO Products into the fast growing "Green" market.
Under the new structure WNA, ECO Products and Polar Plastics will each form divisions of a new entity to be known as The Waddington Group, Inc.
• WNA with 5 plants in the USA will continue to concentrate on US sales and manufacturing of foodservice and other disposable packaging
• Polar Plastic with a major facility in Montreal, will continue to concentrate on Canadian manufacturing and sales and
• ECO Products of Boulder Colorado, will continue to concentrate on "Environmentally Friendly" packaging.

Acquisition of Par-Pak Ltd.
The Waddington Group is also pleased to announce the acquisition of Toronto, Ontario based Par-Pak Ltd, North America's leading independent thermoformer of foodservice, bakery and produce packaging. Par-Pak has plants and significant sales in Canada, the United States, and the United Kingdom.
Par-Pak Ltd and Polar Plastics will continue to operate separate plants in Canada, however the sales groups will come together to form a single selling company under the name PolAR PAK in order to leverage the strength of both groups.
The acquisition of Par-Pak Ltd. enables The Waddington Group to continue its growth and expand into new and exciting markets. The two companies offer complementary products and will be able to bring an exciting breadth of products to its customers.
Mike Evans, the President and CEO of the Waddington Group, said "We are delighted to welcome Par-Pak to The Waddington Group. I have known and respected Sajjad Ebrahim and the Par-Pak Company for many years. I am delighted that Par-Pak will now be a part of the Waddington family and that Sajjad will be joining the Waddington Board. Sajjad acquired Par-Pak in 1977 when it was a very small Toronto based thermoformer and has built it over 35 years into a leading international packaging company. Sajjad's experience and vast knowledge of the industry will be invaluable to the entire Group as we continue to grow organically and via acquisition."
Sajjad Ebrahim, CEO of Par-Pak Ltd. added, "I have also known and respected Mike Evans and the entire Waddington team for many years. I look forward to working with the entire Group to build an even greater company, with a broader array of products, technologies and expertise serving our customers with best-in-class products to serve all their packaging needs."
The Waddington Group was acquired by Olympus Partners in October 2012. Founded in 1988, Olympus is a private equity firm focused on providing equity capital for middle market management buyouts and for companies needing capital for expansion. Olympus is an active, long-term investor across a broad range of industries, including business services, restaurants, consumer products, healthcare services, and financial services. Olympus manages in excess of $3 billion on behalf of corporate pension funds, endowment funds and state-sponsored retirement programs.

---
Waddington North America Acquires Eco-Products


Covington, KY, November 26, 2012 – Waddington North America ("Waddington") is delighted to announce that it has today acquired Boulder, CO based Eco-Products, Inc.
Eco-Products is the leading brand of sustainable, single-use foodservice products in the United States and Canada, and is widely regarded as being at the forefront of innovation, expertise, and education in this fast growing sector. Eco-Products currently offers a wide range of environmentally friendly disposables produced with renewable, compostable, and post-consumer recycled materials. The company's products can be found in foodservice establishments throughout the U.S. and Canada, including those of restaurants, colleges, hospitals, stadiums, and corporate campuses. Eco-Products will remain dedicated to leading the industry with environmentally responsible foodservice solutions, and will continue to live by the credo, "Green is all we do", as such, Eco-Products will operate as a separate division of Waddington.
Waddington is a holding company for a number of businesses serving the North American disposable food service marketplace. Most notably, Waddington owns WNA, the leading manufacturer and supplier of premium foodservice disposables, and Polar Plastic, the leading supplier of a broad range of foodservice products in Canada. Eco-Products will join WNA and Polar Plastics under the Waddington umbrella. This is the first acquisition for Waddington since the company was acquired by Stamford, CT-based Olympus Partners in October 2012. Manu Bettegowda, a Partner of Olympus, remarked, "We remain focused on our strategy to drive growth in the foodservice disposables market organically and through acquisition of industry-leading companies. We are excited about the opportunity to work with the Eco-Products management team to build an even greater business and we remain committed to its core mission of environmentally friendly disposables."
Mike Evans, President and CEO of Waddington, commented, "I have long admired the Eco-Products business and its dedication to the green market. That focus and dedication will not change. I look forward to working with Eco-Products and its management team to continue the company's impressive growth and introduce an even broader range of environmentally friendly products, with an increasing focus on having such products made in the USA or Canada."
Mike Hastings, President of Eco-Products, also commented, "I have known Mike Evans and the team at Waddington for many years and am delighted to see Eco-Products become part of such a well-regarded company. Working with WNA and Polar will enable Eco-Products to grow even faster and be in an even better position to serve our customers in the future. The fit between the Eco-Products and the Waddington culture will be excellent."
For more information about Waddington and its subsidiaries, please visit www.wna.biz, for more information about Eco-Products, please visit http://www.ecoproducts.com.

Click here for more information.

---
WNA Announces the Acquisition of
Winpak Portion Packaging Inc's Drink Cup Division
WNA is pleased to announce the recent acquisition of Winpak Portion Packaging Inc's drink cup division, including' Plastic Foodservice Drink cups, Plastic retail Drink cups, Individually Wrapped & Custom Printed cups and lids. We will be moving Winpak's existing production, packaging and printing equipment to WNA Polar's, Quebec, Canada facility in early October.
We are very excited with this addition to our existing product offering, and confident that WNA will live up to the quality and service that you have enjoyed from Winpak over the past 30 years.
We appreciate your support and look forward to continuing to grow with your company.
Click here for more information.

---
WNA and Sabert Reach Settlement Over Patent Disputes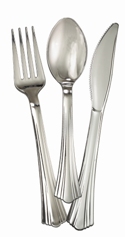 Cincinnati, OH – September 13, 2011. After a lengthy lawsuit, Sabert Corporation and Waddington North America (WNA) have entered into an agreement settling a patent dispute. This settlement brings an end to a legal dispute regarding metalized cutlery dating back to 2006.
While the details of this agreement are not disclosed, both parties are satisfied that due consideration has been provided for the licensing of the patents which continue to be valid and enforceable. This agreement licenses Sabert to manufacture, market and sell metalized cutlery and utensils in the US, Canada, and Mexico, for the full remaining term of those patents. The metallization process and metals that this license provides deliver products with superior appearance, product safety and durability.
The heads of both companies welcomed the end of this dispute which ultimately should result in both brands becoming stronger. "Now that we have finally settled this long-standing dispute, both Sabert and WNA can concentrate our efforts on providing our customers with the high quality, innovative products we are both known for," said Mike Evans, CEO of WNA.
Albert Salama, President of Sabert Corporation stated "We are pleased that this matter is settled and are confident it is the best option for both WNA, Sabert Corporation and their customers."
---
| | | |
| --- | --- | --- |
| | | WNA. We bring more to the table. ® |