New Products from WNA

WNA introduces the new contemporary square plate line: Milan™ Grand™! Trendy in shape and sophisticated in style, the versatile design allows for multiple applications from sit-down events to bistro settings.
Made in the USA, these plates are packed with shrink wrapped sleeves to prevent scuffing and also have a printed label for an attractive shelf display.
The Milan™ Grand™ product line complements well with our Milan™ Tumblers and Reflections® Select™ cutlery. Custom decorating is available with our patent-pending Signatures™ technology.
.
---

The Gala™ plate can be comfortably used with virtually any size and style drinkware, stemware, can or bottle! It's the ultimate cocktail plate for "meet and greet" social events.
The patented design allows guests to hold their food and drink in one hand, while simultaneously being able to eat and greet with the other. No more juggling food and beverage to free a hand. Finally!
How is mingling made easy? With Gala™ plate from WNA!
CLICK HERE FOR ADDITIONAL INFORMATION
CLICK HERE TO VIEW THE GALA™ VIDEO
---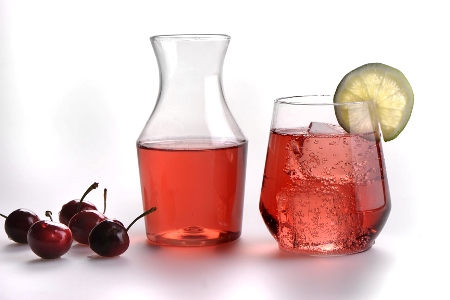 It's Unique. It's Sophisticated. It's Stemless!
WNA is excited to introduce our newest innovation in drinkware; the Reserv™ Stemless Collection! Made from shatterproof PET, complemented by its visually appealing design, these glasses are the ideal single-use serving solution for stunning food & beverage presentations at any indoor or outdoor event!
Reserv™ Stemless Collection is made available in 10oz Stemless Flute, 12oz Stemless Glass and a 12oz Carafe.
CLICK HERE FOR MORE INFORMATION!
---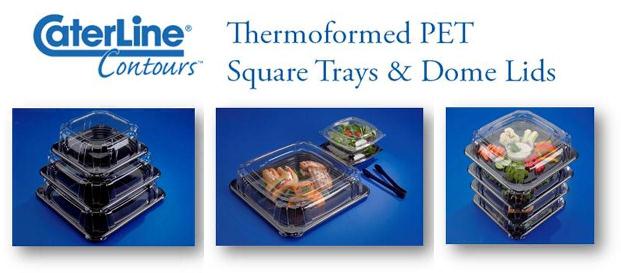 CaterLine® Contours™ SQUARE thermoformed trays and dome lids offer an attractive contemporary design while providing the strength, crack crush resistance and visual appeal of PET.

Available in 3 standard sizes; 10.7", 14" & 16" (equivalent to 12", 16" & 18" round trays).

Tray corners can be custom decorated with Signatures™ patent pending technology (minimum 30 case order)!

Trays designed with stay-fresh (juice trap) channel.

Dome Lids:
- Also fits Milan™ IM trays offering single-stocking convenience!
- Dual tabs facilities easy lid removal!
- Dome lid design allows for secure stacking of multiple tray sizes and confident transport!

CLICK HERE FOR MORE INFORMATION!
---
Continuing a legacy of innovation, WNA expands the exceptionally popular Reflections™ single-use silver-look disposable cutlery offering with Reflections™ Select™.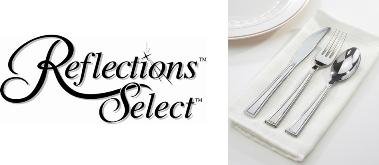 The popularity of Reflections™ and 'like' products has created demand for more design options. Reflections™ Select™ carries the well-known and trusted brand of Reflections™ with a new contemporary silhouette.
This sophisticated single-use piece is a unique and attractive alternative to the white, black or clear disposable cutlery that is common in the market.
With sleek and contemporary styling, Reflections™ Select™ is the ideal choice for special occasions and every day!
Reflections™ Select™ coordinates with any disposable plate line for a great presentation.
Click here for more information on Reflections™ Select™